THE PARTY 6
Descriptions updated 28.08.1998
Thanks to Lemming/Orange.
---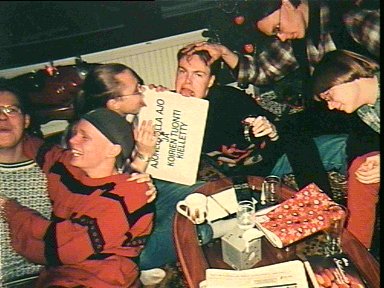 The trip is about to start and everybody's very anxious and also incidentally pretty much toasted.
Picture here are Damaq/Doomsday, Mazor/Doomsday, Sivu/(B) and Dice/Doomsday (the ones drooling on some sign we socialized somewhere), Hazard/(B) and Razorback/Doomsday, whose parents' booze we also socialized...
Before starting the trip we spent some time in Tampere. Later Dice passed out in the bus, got helluwa bad headache, tried to buy drugs and sell us to write slave traders.

---
Grendel / Byterapers giving his infamous kung-fu -grip to some unseen fiend. On the background you can see the interior of the bus.

---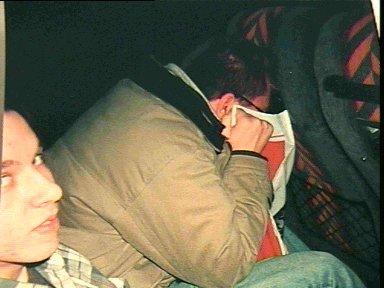 Ureator/Coma struggled up the first technicolor rainbow of the trip. BTW; the final results of the pukecompo between the Hirmubus and the lamebus was 7-1. Go Hirmu go!

---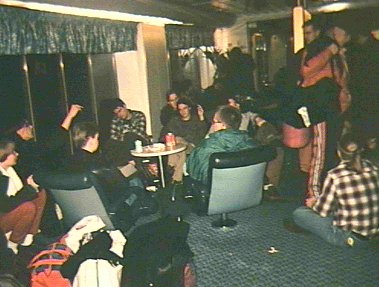 After we got onboard and bough booze we conquered a substantial amount of floor/corridorspace and did some small talking.
---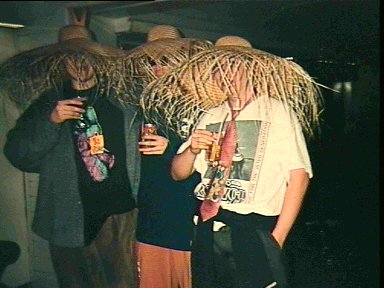 Primon, Muumi/TPolm and Caveman had ultrakewl headwear.

---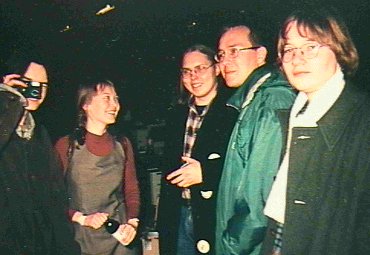 Happy time in the partyplace during first day.
Left>right:
Porkkana, Sunnu/CNCD, Sivu/(B), someone-who-i-cant-remember-right-now-but-ask-me-later, Razorback/Doomsday

---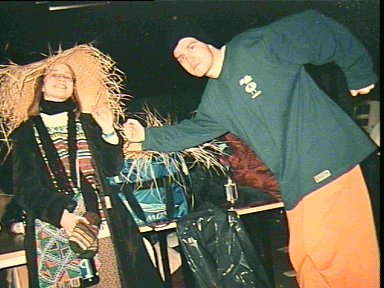 Mia/Radio&tpolm&hirmu and Muumi/TPolm doing the do! Possibly in the partyplace.

---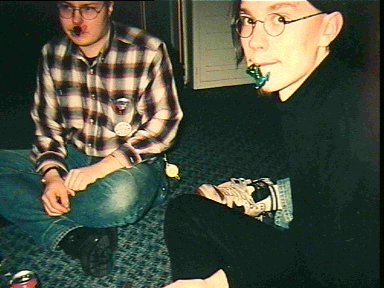 Sivu/(B) and Hazi/(B) having an out-of-body experience while eating Jungle-Slurps, stuff that feels like slime, looks like slime, smells pretty good and tastes like water.
Still in the ship.

---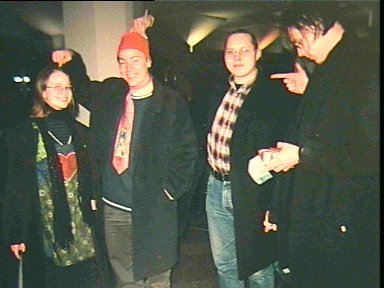 Mia/Radio&tpolm&hirmu, Caveman, Sivu/(B) & Hazard/(B) exercising their forefingers.
And in the ship still.

---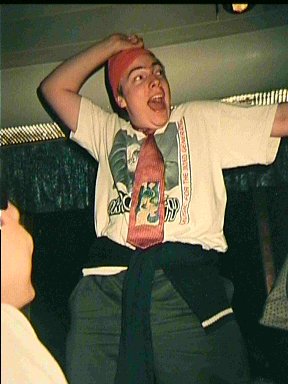 Cave goes ninja!
Please note his unbelievable untasty clothing.

---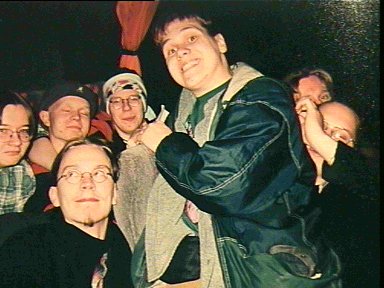 In da bus.
Left->right:
Razorback/Doomsday, Hazard/Byterapers (front), Mazor/Doomsday (back), Damaq/Doomsday, Primon, a piece of Sivu/Byterapers and a bit of Cyberpig/ Paragon behind.
---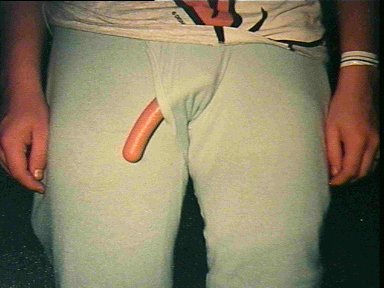 Finally in Denmark.
Caveman and his party-style weenerpants, which got quite a bit of attention and laughs.

---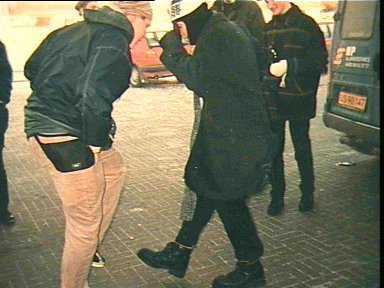 Primon and Ninja-Cave lifting their feet to the music.

---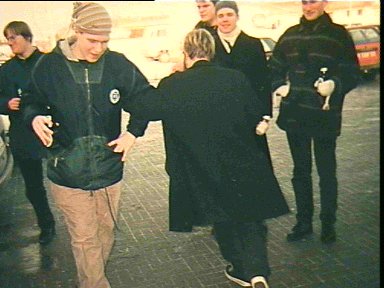 Finns were having quite a feast right outside the main entrance. Music, dancing and beer. All naturally forbidden in the party. Organizers couldn't do anything to the Finns having their own party. Coooool!

---
Grendel tries to eat a polser, an infernal danish invention. Dice tries to hide his drool.

---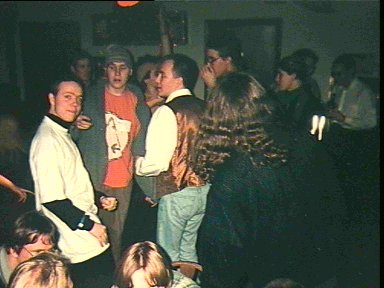 ---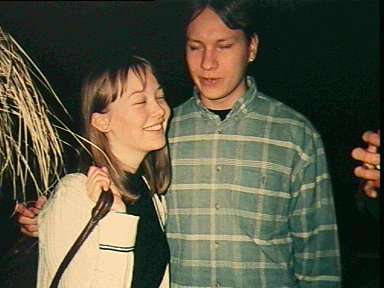 Sunnu and Yolk. CNCD time today.

---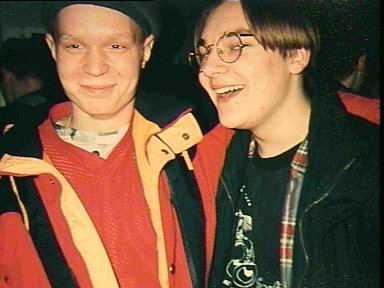 Happy winners Mazor and Croaker demonstrating their contribution to the Jenkki-smile competition.

---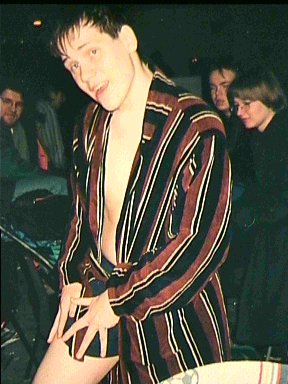 Primon is feeling kinda funny. U know, funny... :)=

---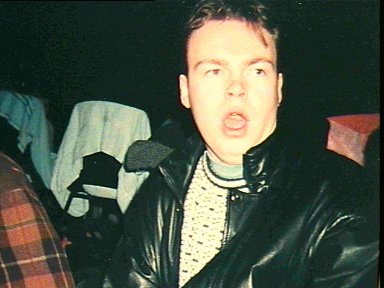 Here Dice is looking surprisingly smart or he´s about to yawn. Your choice.

---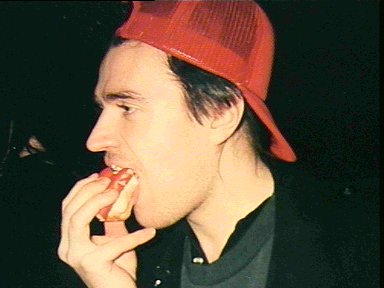 Grendel eating a polser. If you look deep into his eyes you can almost taste the sweet fragrance of the polser.

---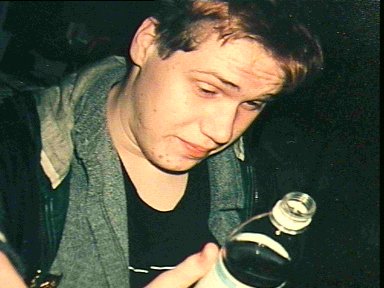 Primon accidentally took a swig of Evian and instantly regretted it.

---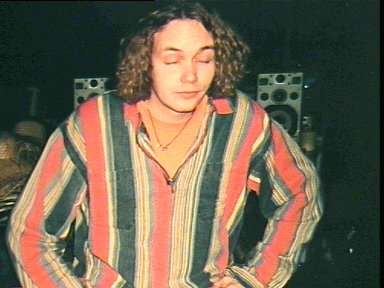 Destop the graphician magician.

---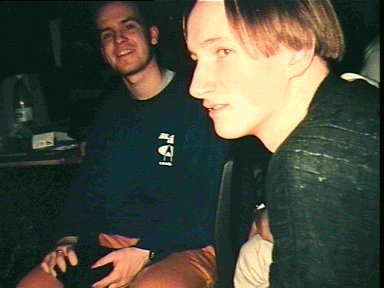 Apatia/Coma and ? wondering where the world is going to.

---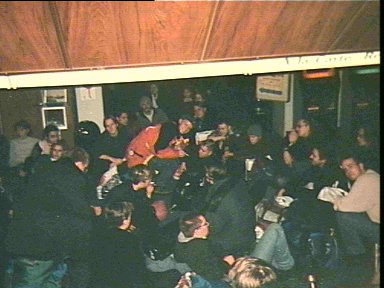 Partypeople waiting for the boat to dock and effectively crowding the lobby. Here Caveman gave a free concert to cheer people up. Even the normal passengers cheered.

---
Same place, different angle.

---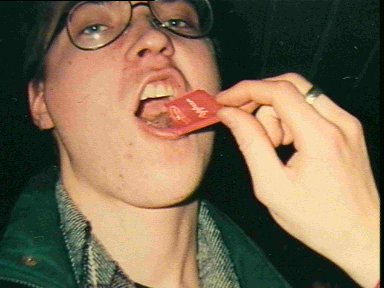 Excrement/Damones testing the pepper from the ships McDonalds or something.

---
"This is the Hirmu-train from Denmark to Sweden. We wish all our passengers a merry trip."

---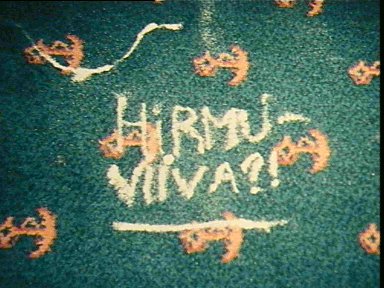 Hirmu-line on the floor of the ferry from Denmark to Sweden. Remember, sniffing salt will make you sneeze and feel like shit for a few days. No flashbacks, though...

---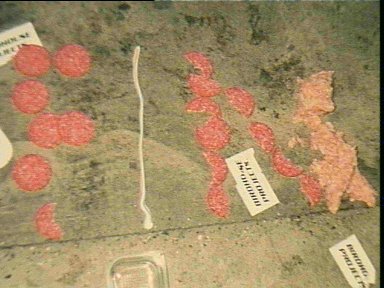 End of pictures.

---
Return to Gallery
Return to (B)Web frontpage