Sivu's 20th birthday partybailando
---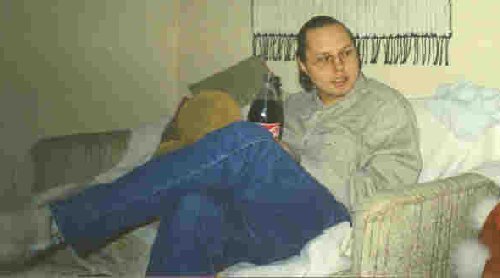 Here we are just starting up. In T.o.B/(B) place. Still sober.

---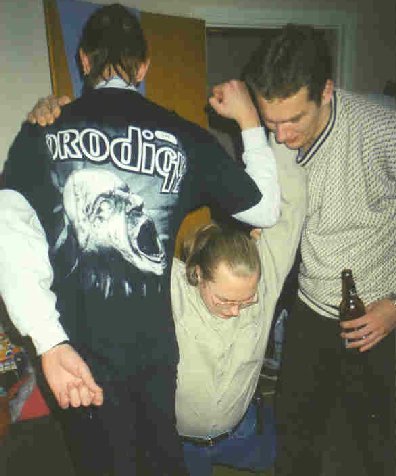 Actually Sivu wasn't that drunk yet, but he wanted to do a classy takeoff.

Draggin him up into the actual partyplace are Hazard/(B) left and Suckho/(B) right.

---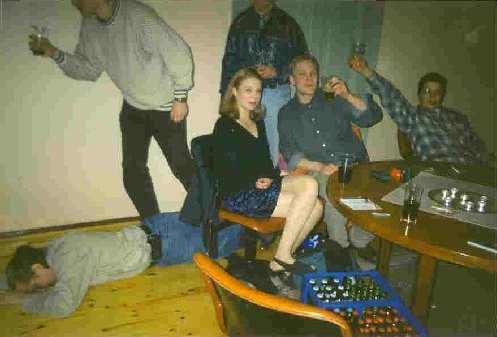 Since Sivu was such a partyplaytoy tonight, he also wanted his piece of attention. After noticing I was taking a photo, he wanted definitely to setup the picture by playing a passed-out-Sivu.

Naturally the guy laying in floor is Sivu, the guy over him MIGHT be Suckho. Possibly Jucca/(B) standing behind him.

No clue about the names of the 2 persons in the table, but you see Lanttu / (B) happily waving in right.

Bringing own booze into the saunaplace was officially forbidden by the authorities, but well, guess if it was that much obeyed. Still, all the booze brought into sauna by the pub owners was consumed.



---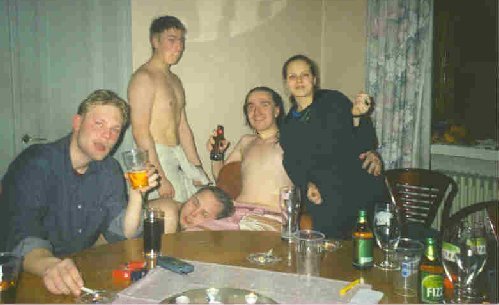 Hey, the party is going on hot!

The women have arrived, but those damn girls refused to jump into sauna with us. We were just having such good, hot time in sauna when they came but only chatted in the door and didn't come really in. Damn.

Also other guests have arrived. The guy left remains still unnamed, but Caveman/COMA seems to have some dirty thougts about the naked Byterapers to his right. Sivu is having a lovely moment of peace on Grendel's leg, while Jazz/(B) is posing on Grendel's armpit.



---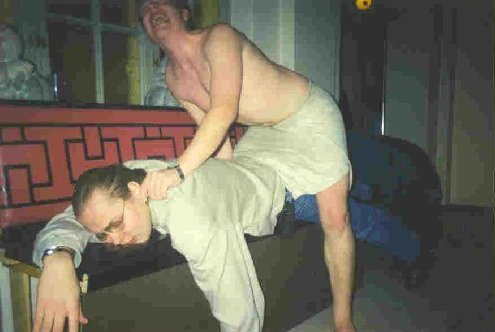 And now it's time to give gifts to the birthday hero.

Caveman/COMA starts.

WHAAAA WHAA TAKE THIS AND THIS, CRY BITCH, TAKE THIS

---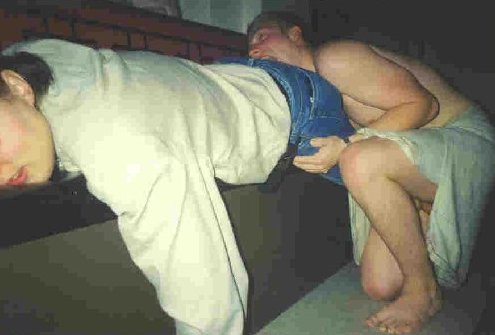 HUMMMMMMN AAAAAH YOU ARE SO TASTY SIVU

---
MUUUUH MMMUUMUUUUUUUUUUH HAVEN'T GOT ENOUGH WELL ????????? TAKE THIS TOO MMMUUUUUUUUUUUH WOOOOOH

---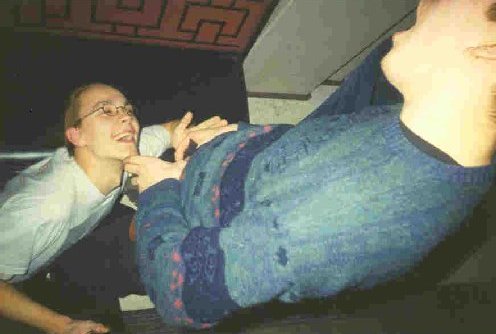 Doesn't Caveman ever come to a stop? Does he have endless supply of sexual energy? Hazard/Byterapers wanted a present too.

OPEN YOUR MOUTH HAZIIIIIH, YOU WILL GET WHAT YOU WANT, THAAAAAAAT'S THE WAY.....

---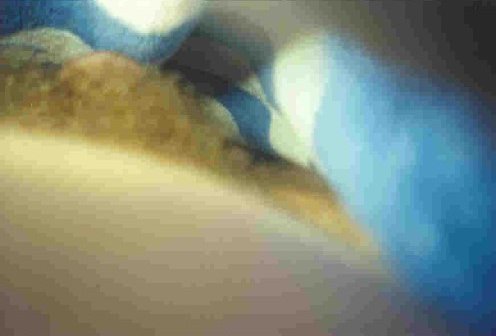 And not changing the topic, this is Grendel under the towel. Directly from the sauna, fresh and virile.

---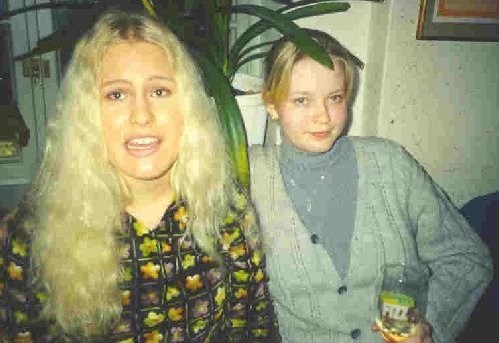 And let's change the gender action now. You see here two (B) affiliate women, or well, the one right is HC-Anna(B), our official Violence Section.

---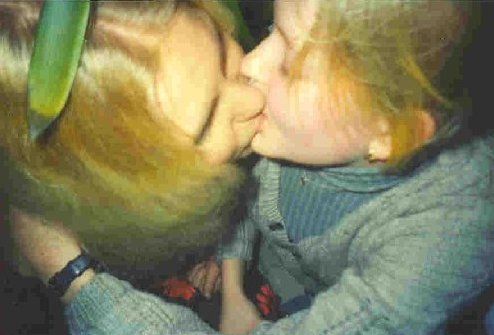 And - ACTION, GO!

This is actually a rather long pictureshow. Too long to put into web as whole.

Hanna commented that it's always like this when those two get drunk. Hmm. And what happens when there are no other people looking?

---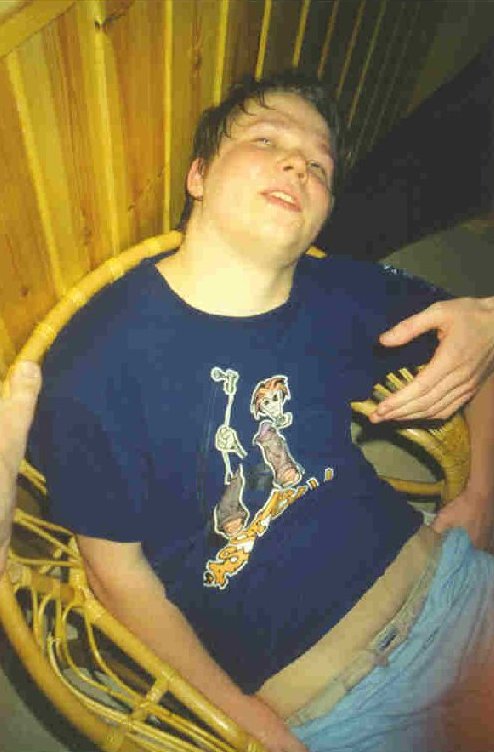 Don't you think Deadbeat/The Sharks is a bit drunk here?

---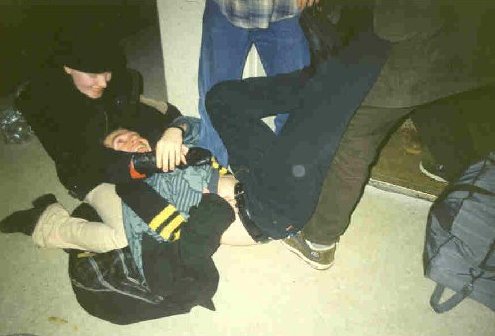 Raaaaaaape! Byteraaaape!

We finally got out of the sauna, and into the nearest pub. Immediate into action.

Grendel/(B) has fallen and is loosing his clothes. Jukka Kauppinen/HiRMU takes care of the head side while Lanttu and Suckho (B) seem to be handling the legs. Uuuuh. Won't tell you what THEN happened.

---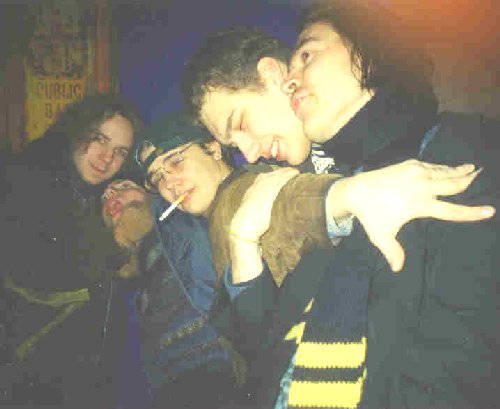 Lallalalalaaa, more beer, more more more.

Lemming/Orange, Caveman/COMA, Lanttu/(B), Suckho/(B) and Grendel/(B) in da bar.



---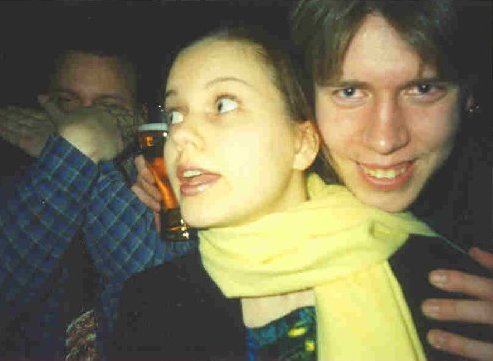 Reznor/Byterapers is hiding on the left, while the old pervert T.o.B (the one in RIGHT) seems to have some dirty thoughts about Jazz/(B).

One special number in the bar was "Jazz recycling." That's the only thing Dice/Doomsday remember of whole visit to bar, everything else was blur according his words.

---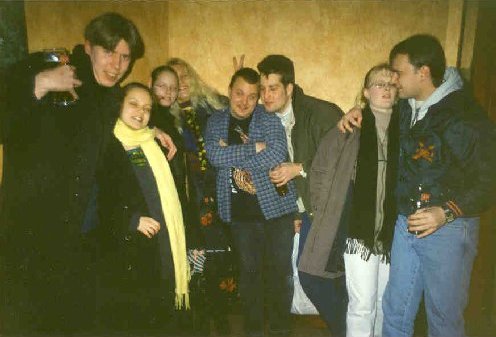 Seems we managed to get few people of the (B) staff to stay in one place for a moment.

Left->right:
T.o.B/(B), Jazz/(B), Reznor's ex girlfriend, a (B) affiliate woman, Reznor/(B), Lasse/(B), Jucca's girlfriend and Jucca/(B)

Must admit that I don't really remember a lot of things after leaving the sauna place. These photos releaved wholly new things about the night. :-) Surprisingly we found a (B) member from the bar: Jucca from (B) Movie Productions. He wasn't in the party and we didn't even know he was around. Well, lucky shot guys.

After spending considerable time in Kojootti some folks went to a nearby grill for some snack. Dice threw money into the jukebox there and selected Dingo pieces by random.

---
Return to Gallery
Return to (B)Web frontpage