ASSEMBLY 1995
---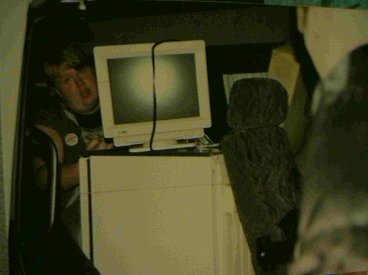 That year we started the tradition of renting a minibus, and stuffing it full of guys and partymaterial.
One could think that about 6 guys should fit easily into a regular-size minibus, right? Wrong, at least when Micron is one of them; he brings 90% of his house to parties!!!
Here you see Micron jammed in the back of the partybus, between the refrigenerator and monitor.

---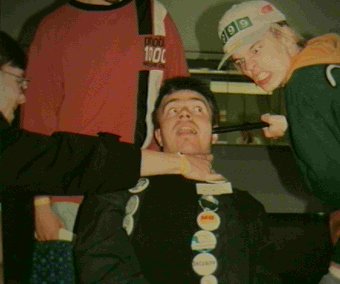 Hazard (left) & Carebear (right) giving Grendel (middle) hard time. Situation not real. Don't try this at home. Unless you have a Grendel of your own!

---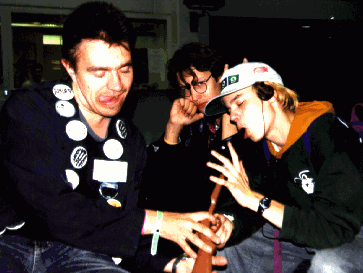 Carebear (right) showing Grendel how to give head to a shotgun. Grendel looking from the side, looking horny while learning lots of new tricks. The identity of guy in middle unknown.

---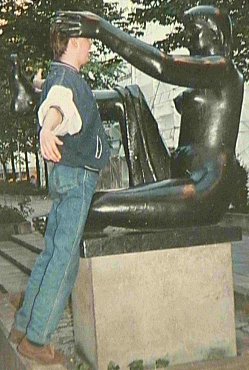 Dice/Doomsday is having or trying to have a sexual act with a statue located near Pasila train station. We were wandering around trying to find some pub that would offer us some tasty refreshments.

---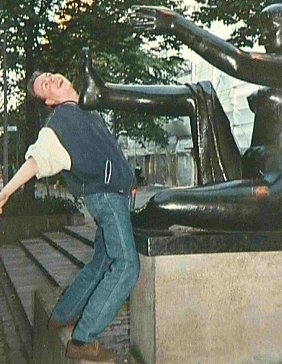 Oh my, looks Dice was rejected. Sad. Waiter, more beer!

---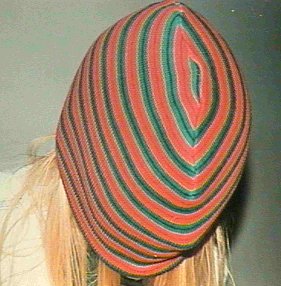 Ivy of HiRMU. I think. Might be Edi/Exotic Men too. Probably the latter.
And question answered. It's Ivy. Why? He tells you:

Perkele, minähän se tuolla byterapersin kuvilla olen pipo päässä.
ai mistäkö tiedän?

a. se o mun pipo
b. se o mun päässä
c. edillä o paljo tummemmat hiukset
---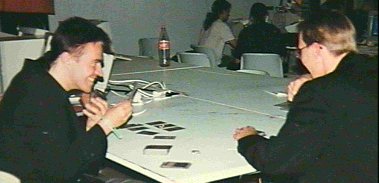 Grendel learning Magic: The Gathering and trying to give Hazard hallu vibes.

---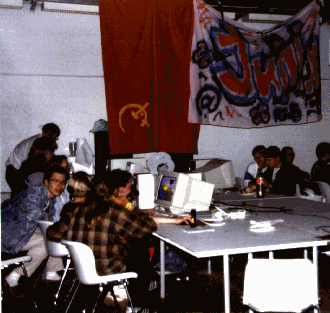 Byterapers's stand. Note the luvvvvly Red Flag we got hanging. It was hand made in previous year's Abduction'94 when we just got the urge to get a red flag. :)

---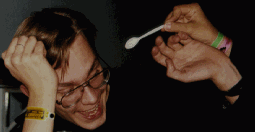 Grendel tries to jam a spoon into Hazard's ear. Dunno why.

---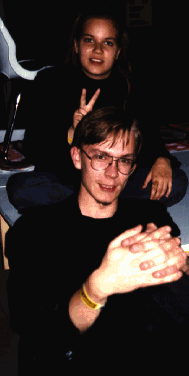 This is a puzzle.
One of them is Jazz/(B), one is Hazard/(B).
Recognize who is who. Mail the result to president@finland.gov.
---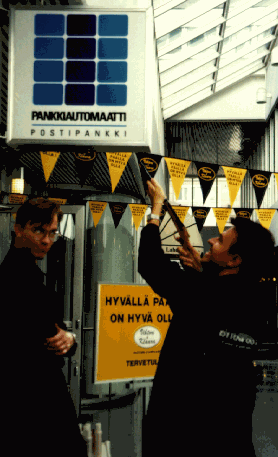 *CLASSIFIED! FOR EYES ONLY!* Very sensitive and material about Hazard & Grendel trying to rob the bank automat in Pasila Postbank.
Note the plastic shotgun that was confiscated from some unhappy partydood.
Grendel & Hazard were carrying it all the time since, and even the door guards (big motorcycle duuudes) wondered what was actually going on, like Hazi entering the party and heard the guards wonder "was that a shotgun I saw?!?".
---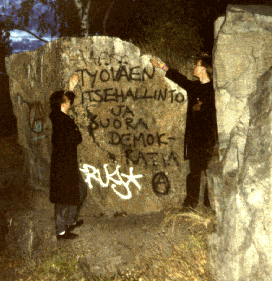 Comrades. This is what Jazz, Grendel and Hazard found when walking back from Helsinki night life to the partyplace.
Perrrfect and pure ideology. Gotta worship.
---
Return to Gallery
Return to (B)Web frontpage