ASSEMBLY'93
---
Deadbeat / The Sharks & Hazard having a small partysex session.

"Hazi, gimme hyvvää!"
"No way, asswipe!"

What can one do, when you're out of alcohol and nothing else to do?
Have sex, of course! Hazi is just a damn pihtari. =)

Hazi: Especially when dealing with males!

---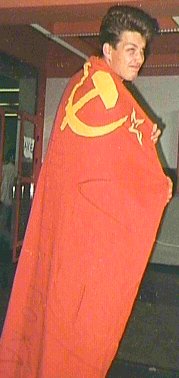 Die, capitalist pigs!
Lenin forever.
Just making a good use with the kewl flag stolen from Albert's back(or is it front-)yard. The flag's current whereabouts are unknown. A pity!
Proud bearer is Lasse/(B)

---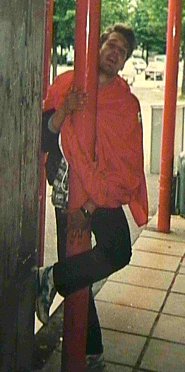 Lasse/(B) AKA Flatus tries to empty some fluids. He complained later "it didn't respond to me at all."

---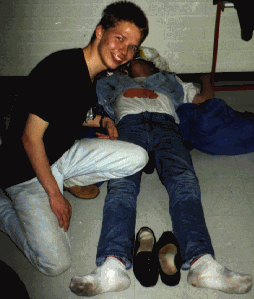 No matter what you do, just don't touch the bottle in the sleeping (read: passed out) guy's hand! You can even stick a bottle up his ass, that's no problem. But steal his beer? No way!

Yeah. Deadbeat/Sharks is very proud here.

Actually this was very humorous. Proton had passed out, but was having a very steady grab of his beer bottle. You couldn't wake or disturb him, but it if you tried to take the beer he started fighting back - asleep!

---
Return to Gallery
Return to (B)Web frontpage