ASSEMBLY'2K
And there we were again.
Adding text someday soon. I hope. Send descriptions and fun comments if you wish to Grendel.
All photos are thumbnails of a larger image. All people named are from left to right.
---
THURSDAY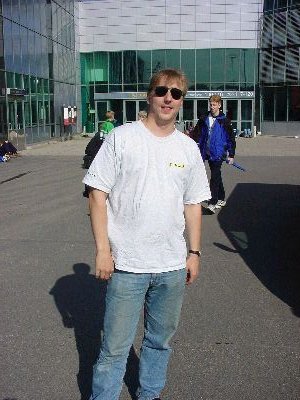 Arrived to the party, thanks to the fine shafeur Birra/(B).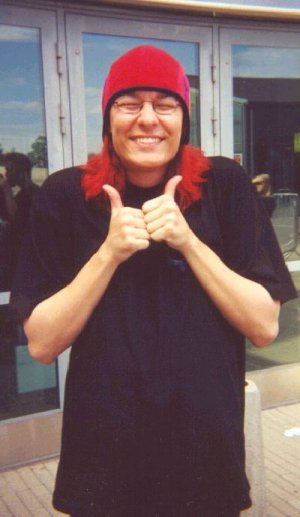 And met Kraku/(B).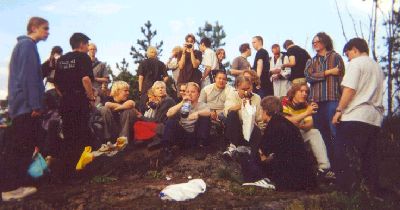 And so the Boozembly started promptly. The Oldskool hid in the woods, deep, to avoid both unwanted attention and the lamers who might stumble in.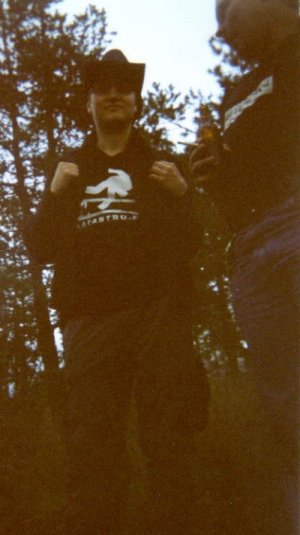 But we couldnt avoid Jugi the Cowboy.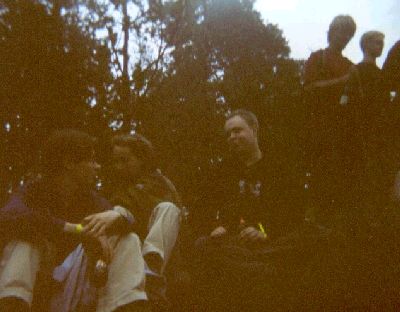 Wode/Doomsday, Wode's lady whose name I again forgot and Dice/Doomsday.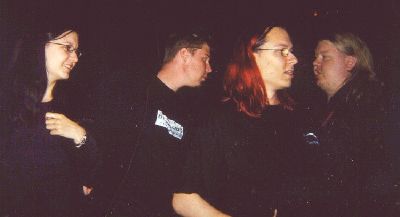 Happy Byterapers family. Eija, Enema, Kraku and Mikron.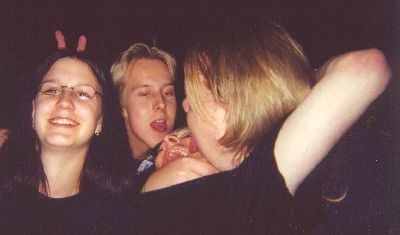 I don't know what they're doing and not sure if I want to. Eija, Cosmo, a poor victim and Mikron.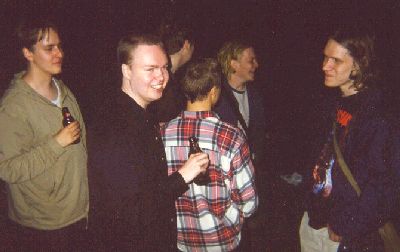 Porkkana (not the famour P.orkkana though, damn), Dice, many backs and Primon in the right.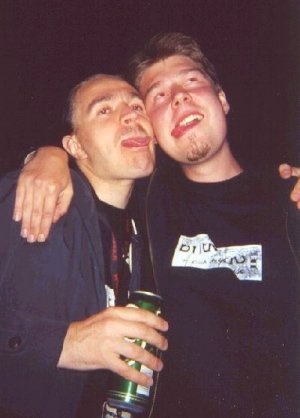 More happy Byterapers family. Grendel and Enema.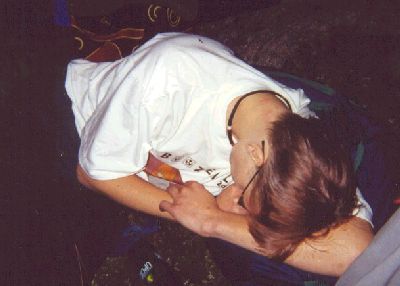 That's all I saw of Duncan/Damones in friday.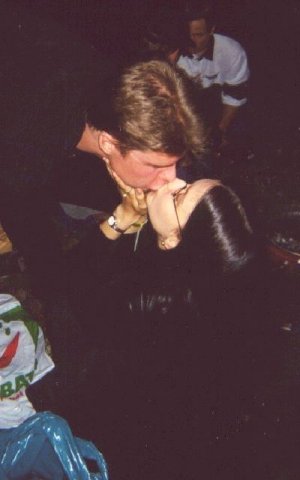 OOoh, porno. Enema and Eija.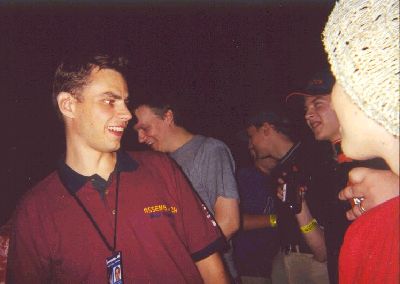 Also the Assembly organizers honored us. Abyss...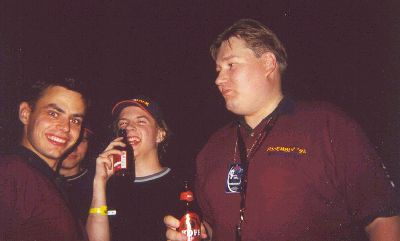 ...and Abyss, someone and Pehu. Hi guys! Thanks for a great party!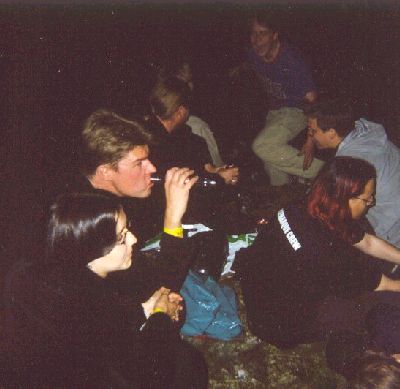 (B) boys drinking. Eija, Enema, possibly Dr. Dick and definitely Kraku on the right.

---
FRIDAY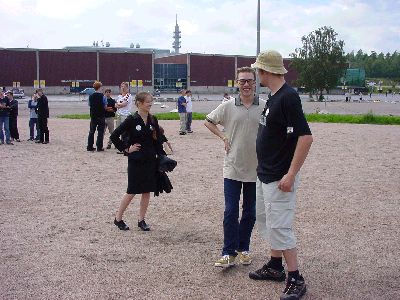 Football! (B) family: Jazz, Mr. Sex and Lasse.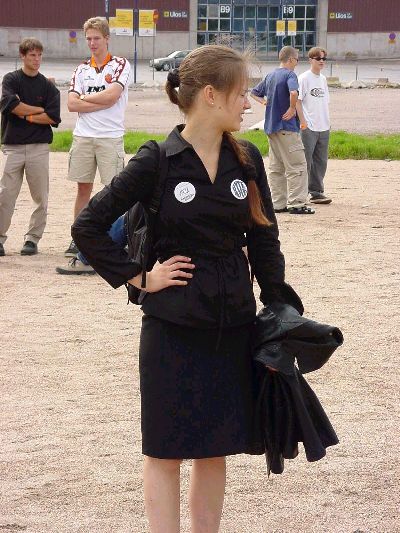 Jaaaaaaaazzzzzzz.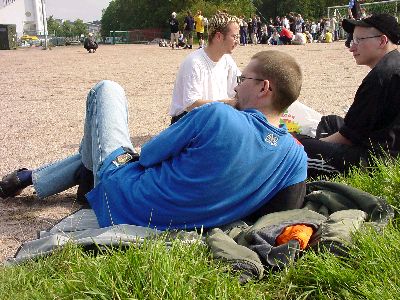 Icemann/(B), the football maniac.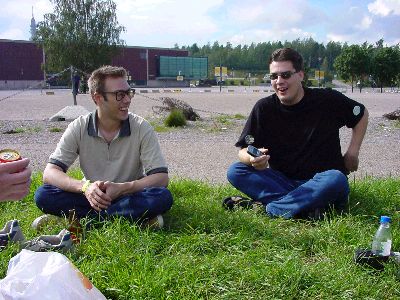 Mr. Sex and Proton/(B).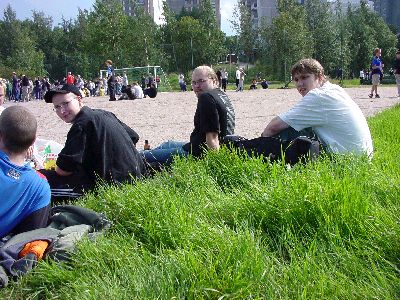 New & oldskool. Icemann/(B), his "brother" Infra, Sivu/(B) and Gallstone/Finnish Gold.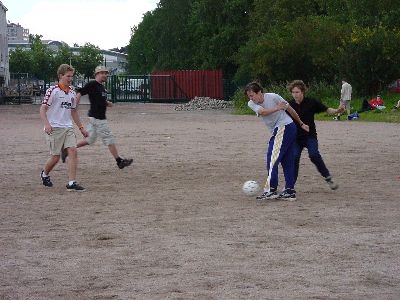 Game is on. Take note of Lasse (2nd left) making a speedy dash.

Lasse only lives for the camera.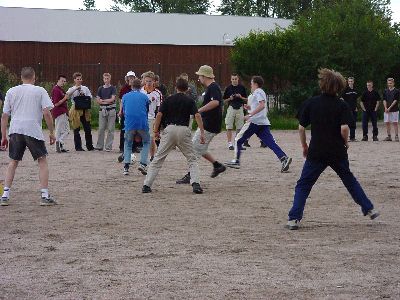 And the ball.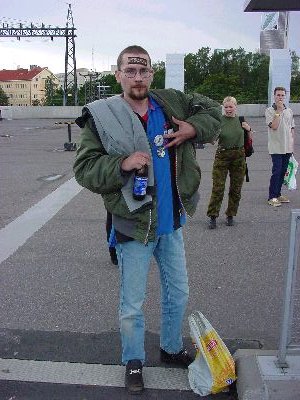 Well, didn't win but made it to the second round ;-)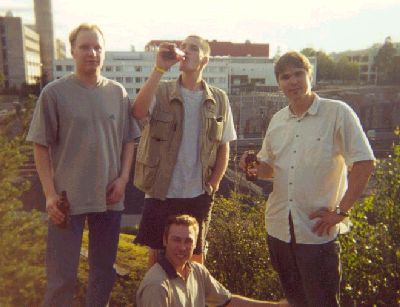 Beer eases the pain. Sardon - an oldtime (B) member, Nico/(B) and Gallstone/Finnish Gold worshipping Mr. Sex/(B).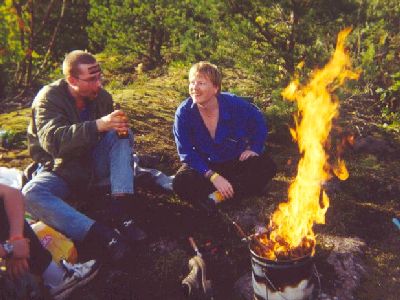 Lovely.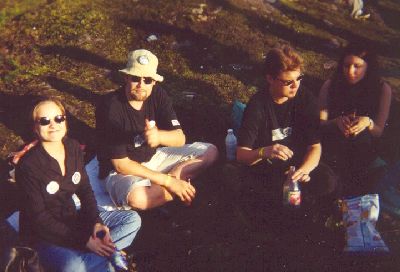 And always the same people in the camera.
(B) Family: Jazz, Lasse, Enema, Eija.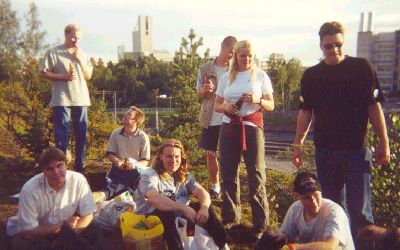 Hey two new faces!
Sitting in ground:
Gallstone and Spemu / FInnish Gold, somebody.
Standing:
Sardon, Mr. Sex, Nico, Joija aka Dr. Dick's militant sister and Proton.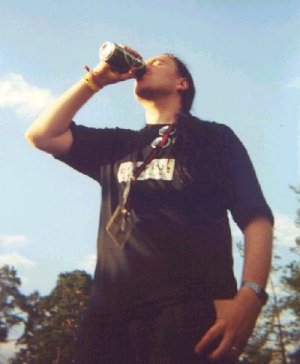 Dice/Doomsday commented that in 100 years when they build a statue for Grendel, this picture will be the model for it.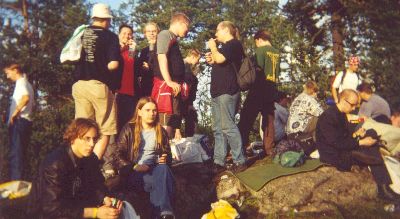 Oooh. Boozembly of Friday has started!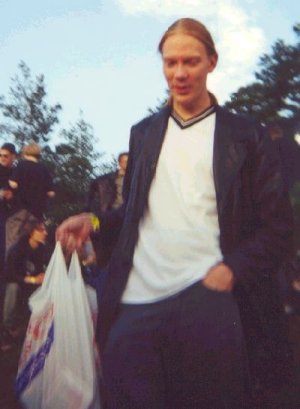 And our beloved Ivy came!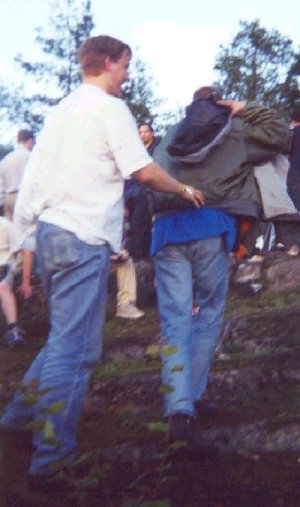 And very surprisingly, the heavy duty drinker of (B), Icemann, was the first to go away. The imported lemonade was a tuff surprise.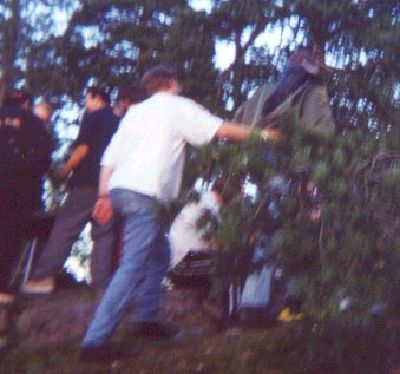 There he goes.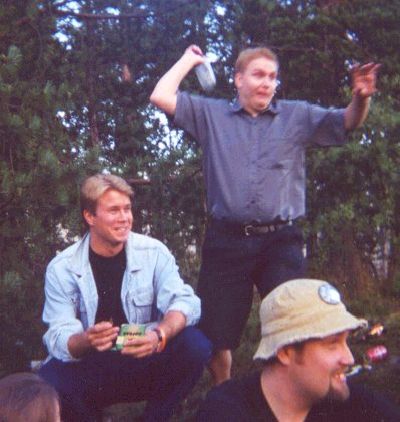 Oh my. Those MAD ONIONs sure seem mad.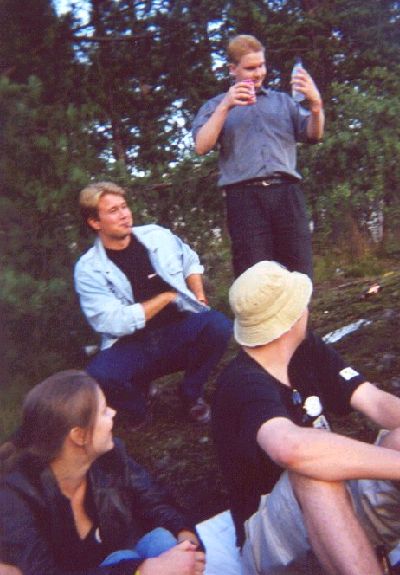 But oh, nice. Someone hinted to Reward/Complex that mixing two different lemonades is a good idea.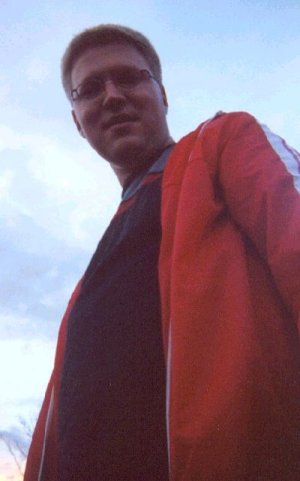 The only worthy position to approach Jmagic/Complex.

What have they done to Grendel's beautiful hair?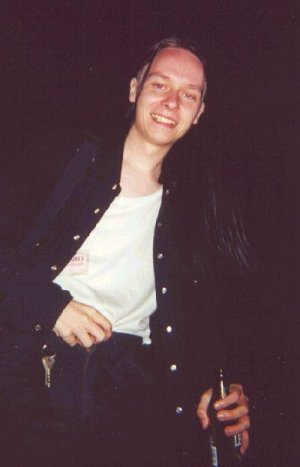 Old Exotic Men pervert Edi was as lovely as always.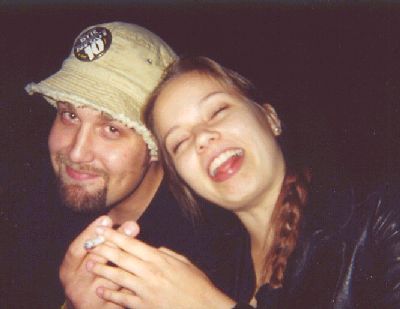 As were Lasse and Jazz.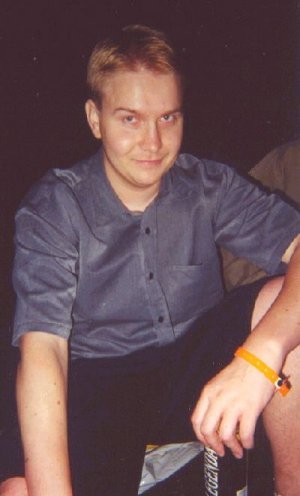 Lemonade mix has made the trick to Reward/Complex.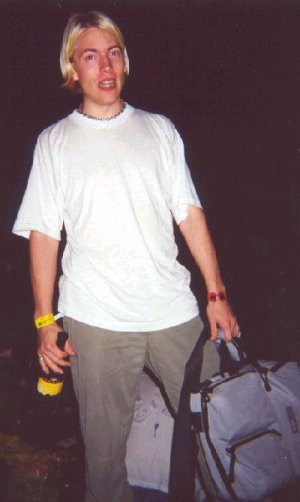 Oh my! Qawu came too!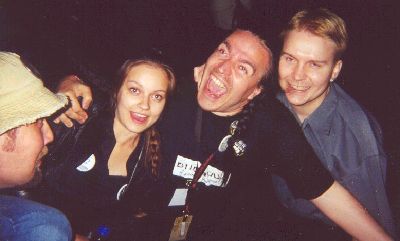 Someone's making a trick to Grendel I see.
Lasse, Jazz, Grendel & Reward.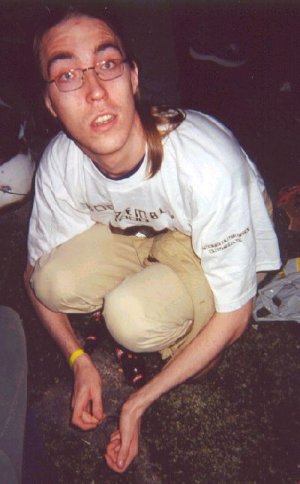 No party is complete without Kakka/Damones.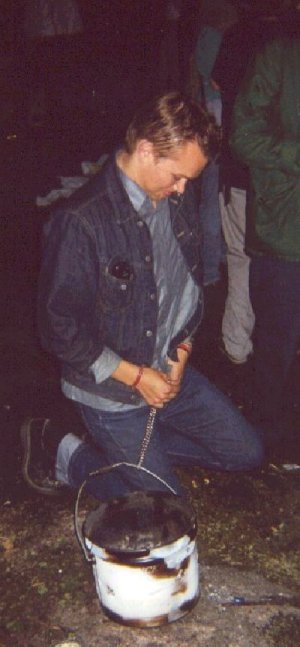 Roope of Exotic Men showed us a nice trick.
How to hang a grill from your dick. Bloody film on the camera ran out in this moment, sheesh.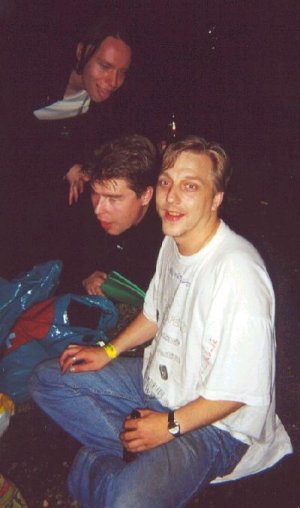 Oh shit, Edi/Exotic Men looks horny.
What on earth he thinks he might get from two Byterapers, Enema & Birra?

---
SATURDAY
In saturday the Oldskool & Byterapers moved back to the legendary, classic Byterapers Hill, Bytehill.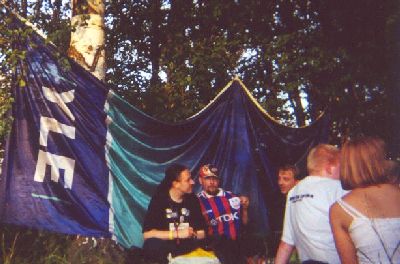 A new Byterapers banner.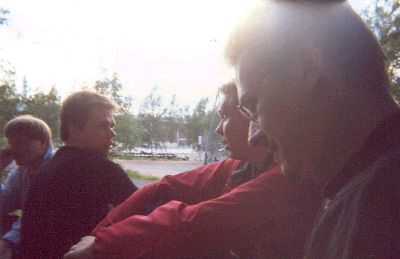 Don't know who is the leftmost guy but others are true Oldskool:
Moku/Finnish Gold / Accession
Axa/X-Men
Yip/Pure Byte
All real 80s demoscene veterans.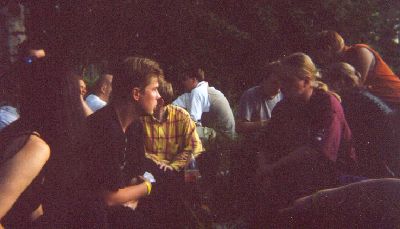 Boozing.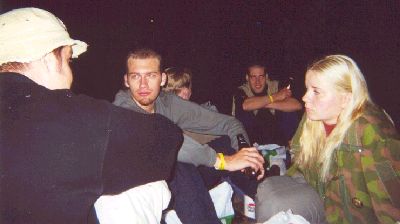 Lasse, Suckho, Nico and Joija.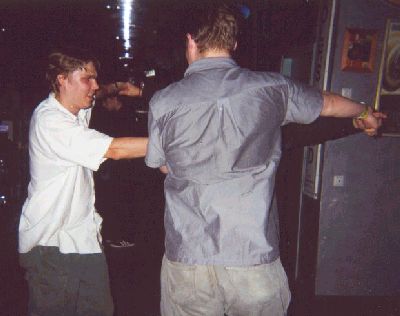 Dancing inside listening to music competition.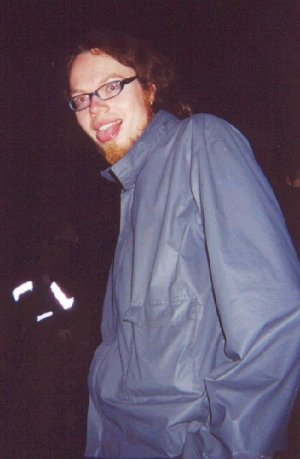 WOAH

---
SUNDAY AND MISC PICTURES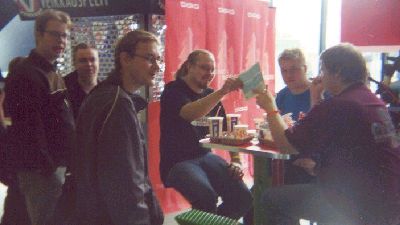 We survived. Damac & Dice/Doomsday, Kaarlo, Sivu/(B), Jmagic/Complex and DDT/Accession.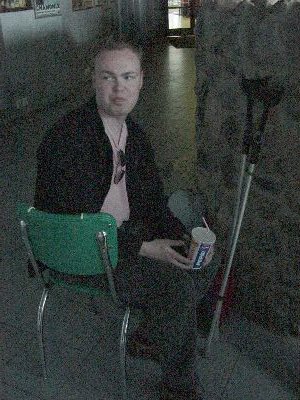 Dice didn't survive that well though. Local punks managed to attack him and its 2-4 weeks of leg healing time. Shit.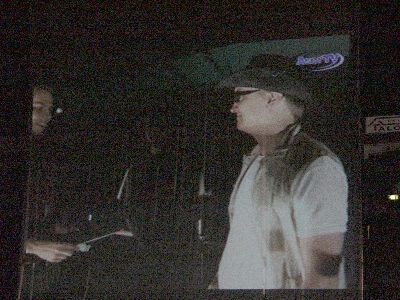 Jugi Perfect getting 3rd prize on MP3 music competition.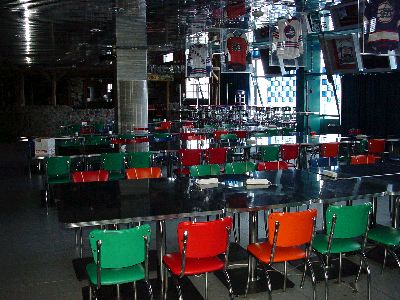 Oldskool-area empty.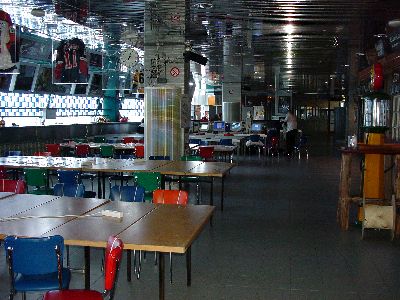 Oldskool-area empty.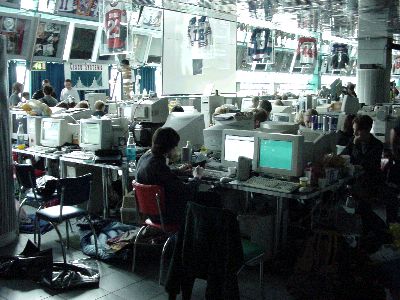 Oldskool-area full. This year there was a special oldskool area for veterans and active scenepeople. Lots of young talent seen. Great!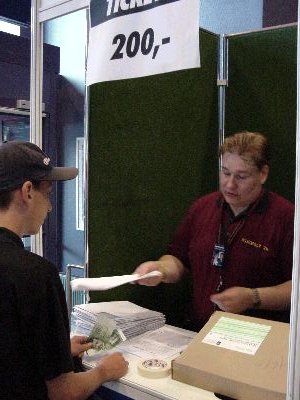 Pehu selling tickets. :-)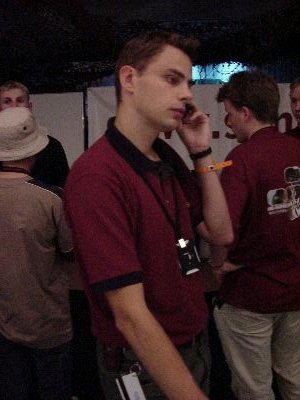 And Abyss busy as always.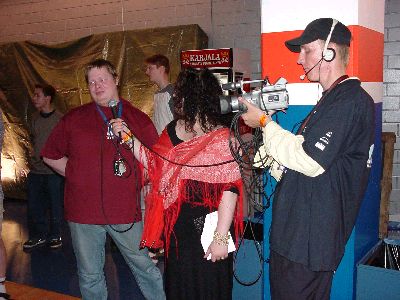 Lennu aka DDT/Accession, a legendary Finnish scene person, here being interviewed at Assembly TV. Took a photo and the bastard turned them to me. Just secs after that the camera turned to me and I got the mic rammed down my throat. THANKS DDT, aargh :-)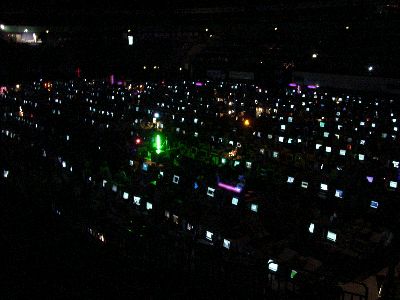 Party looked pretty cool from above.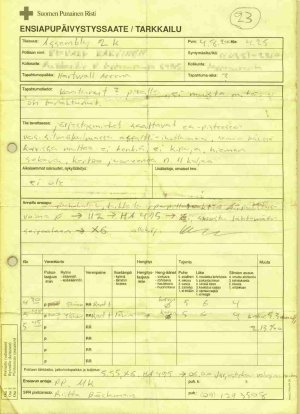 Edward something from something gained quite a reputation for himself in the party. Here is one proof of it. He told in #suomiscene that he woke in hospital or something similar every morning in the Asm.

Return to Gallery
Return to (B)Web frontpage